On November 11th, Dr. Wahls was part of the TEDx conference in Iowa City, TED: ideas worth spreading. Using the lessons she learned at the subcellular level, she used diet to cure her MS and get out of her wheelchair.The following video is her entire TEDx speech:
The
T
stands for technology,
E
for entertainment and
D
for design. The x means it was an independently sponsored event. What follows is the text of my talk that day. Enjoy.
I loved doing Tae Kwon Do and was once a national champion. A lot has changed since then. I became a physician, had a son, and then a daughter. I developed a chronic, progressive disease for which there is no cure.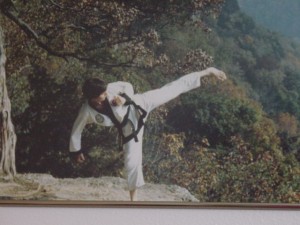 In 2000, when I was diagnosed with multiple sclerosis, I turned to the best MS center I could find: the Cleveland Clinic. I saw the best doctors, received the best care possible, and took the latest drugs.
By 2003, my disease had transitioned to secondary progressive MS. I took the recommended chemotherapy, I got my tilt recline wheelchair. I took Tysabri and then Cellcept, but I continued to become more severely disabled.
I was increasingly afraid, for both myself and my family, because I was moving toward becoming bedridden.
Wanting to forestall that as long as I could, I began searching PubMed.gov for the latest research articles. I knew that brains afflicted with MS shrank over time.
So I spent a few minutes each night reviewing animal models of three other disorders in which the brains shrink: Huntington's, Parkinson's and Alzheimer's. In all three diseases, mitochondria do not work very well, which in turn causes the early death of brain cells and shrinking brains.
With more searching, I identified studies where mouse brains and their mitochondria had been protected using fish oil, creatine and coenzyme Q. I translated those mouse-sized doses to human-sized ones and began my first round of self-experimentation. The rapidity of my decline slowed and I was grateful, but I was still declining.
I discovered the Institute for Functional Medicine, and through their continuing medical education course, Neuroprotection: A Functional Medicine Approach to Common and Uncommon Neurologic Syndromes, I learned more about brain cell biology and what I could do to improve mine. This is some of what I learned.
We have a billion cells in our brain and 10 trillion connections between our brain cells. All that connective wiring in our brain and spinal cord is insulated with something called myelin. MS damages myelin. To make healthy, robust myelin, our brains need B vitamins, in particular vitamin B1- thiamine, B9 – folate, and B12 – cobolamin. We also need plenty of omega-3 fatty acids and iodine.
This is a synapse, the junction between the brain cells. The golden drops are neurotransmitters, the molecules that activate the next brain cell in line. To make neurotransmitters efficiently, our brain cells need an ample supply of vitamin B6, which is pyridoxine and sulfur.
These are mitochondria. They are critical to our lives. Each one of our trillion cells has many, sometimes thousands of tiny mitochondria, which manage the cell's energy needs. Without mitochondria, we could all be no larger than bacteria. In medical school I had to memorize countless reactions involving mitochondria, but I was never taught which substrates our cells can manufacture and which ones must be consumed to ensure those reactions happened properly. For mitochondria to operate at peak efficiency, they need an ample supply of B vitamins, sulfur and antioxidants. So I added sulfur and antioxidants to my list of vitamins and supplements.
Next, I decided that I shouldn't be relying just on pills; I should be getting the long list of nutrients I was currently taking in pill form from my food instead because, in so doing, I'd likely pick up other important nutrients that science had yet to identify and name. Plus, I thought it likely that vitamins occurring in food were more powerful than the synthetic versions I was taking in pill form.
But I did not know where to find my list in the food supply. Neither the medical texts nor the food science texts had that kind of information. Fortunately, the internet did, and using it, I was able to create a food plan designed specifically for my brain cells and my mitochondria.
What are most Americans eating? We will start with you. Think back to the last 24 hours and add up all of the vegetables and fruit that you have eaten. Do not include corn or potatoes. Raise your hand if what you ate could cover a dinner plate. Keep it up if you could have covered 2 dinner plates. How about 3 dinner plates?
This photo is from the book, Hungry Planet, by Peter Menzel and shows a week's worth of food for this American family. You do not see many fresh vegetables or berries. Instead there are many boxes and bottles of processed foods. Most of their calories will come from white flour, sugar, high fructose corn syrup and meat. This is how most Americans are eating and it is how most societies eat as they become affluent. It also explains why as societies become affluent their health often declines.
This graph is from Dr. Loren Cordain, a top nutrition researcher. It depicts what percent of Americans fail to get the recommended daily allowance or RDAs of vitamins and minerals. The vitamins are the lower half of the graph and you can see that half of us do not meet the RDAs for B vitamins, vitamin C or vitamin A. The minerals are on the top half and two-thirds of us do not meet the RDA for calcium, magnesium, zinc or iodine, and 80% of us do not getting enough omega-3 fatty acids.
Life is a series of complicated chemical reactions. If we are not eating the vitamins, minerals and other building blocks needed for those chemical reactions, structures do not get made, or they get made improperly. This causes our health to decline—our children are born with jaws that are too small, leading to crooked teeth and smaller brains, emotions become uncontrollable, blood vessels become stiff, the heart muscle weakens, and we age too rapidly.
This is why one in three children, one in two if you are African American or Hispanic, will become diabetic as children or young adults. This is why our schools have ever increasing numbers of kids with severe behavior and severe learning problems. But it doesn't have to be this way.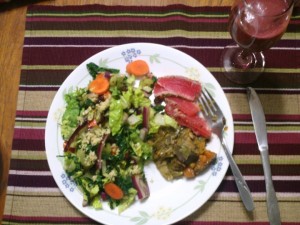 For 2 ½ million years, before the dawn of agriculture a mere 10,000 years ago, our ancestors lived off what they could gather or hunt—a combination of leaves, roots, berries, wild game and fish that was locally obtained, in season and fresh. There was no grain, no dairy and no potatoes in their diet. The foodstuffs were very different, adapted to each locality. The Inuit in the far north ate very differently than Africans. Yet each of these primitive societies had diets that provided 2 to 10 times the daily recommended allowance for vitamins, minerals and essential fatty acids. These hunter-gatherer diets—also called Paleo Diets—have the most nutrition per calorie consumed, more than the American Heart Association diet, more than the American Diabetes Association diet and more than the USDA food pyramid diet.
Primitive societies know more about eating for optimal health than modern scientists or physicians. I therefore started with the hunter-gatherer diet, and structured it to be sure I was getting an ample supply of the nutrients I had identified as important to the brain. It is 3 cups green leaves, 3 cups sulfur rich, 3 cups color, grass fed meat, organ meat and seaweed.
Here is how I did it. Three cups of vegetables equals a dinner plate heaped high.
I start with 3 cups or a plateful of greens every day because they are potent sources of B vitamins, along with vitamins A, C and K. Think Green B-A-C-K. They are also rich in minerals.
The B vitamins support your brain cells and your mitochondria. Vitamins A and C help protect you from cancer, and vitamin K helps keep your blood vessels and bones healthy. Minerals are important co-factors to hundreds of different enzymes used by your cells to conduct the business of life. Eating a plateful of greens every day markedly reduces your risk of cataracts and macular degeneration. My favorite green is kale. Other great greens include parsley, lettuce and spinach. Have more salads, green smoothies, or dehydrator kale chips.
Next I recommend 3 cups or a plateful of sulfur containing vegetables each day. Sulfur is important to our brains and our mitochondria. Our liver and kidneys use sulfur as they remove toxins from the bloodstream. Good sources of sulfur include cabbage family vegetables – cabbage, broccoli, cauliflower, collards, radishes, and turnips. The onion family is also rich in sulfur – that includes garlic, leeks and chives. So are mushrooms and asparagus.
We should also eat a plateful of color, preferably 3 different colors each day. Bright colors equal flavonoids and polyphenols. These are potent antioxidants that help protect all your cells from damage and support your retinas and your ability to excrete toxins. You can get your color eating vegetables like beets, carrots, red cabbage, and colored peppers, or from berries.
I also want you to have high quality protein that is rich in omega-3 fatty acids. The myelin, the fatty insulation around the wiring in your brain, needs omega-3 fatty acids. You also need omega-3 fatty acids to ensure a healthy jaw, straight teeth and a larger brain. Eat wild fish, especially salmon or herring, and grass-fed meat or wild game.
The hunter-gatherers prized organ meats, which are potent sources of minerals, vitamins and coenzyme Q, which is particularly important to mitochondria. Have liver, heart or other organ meats once a week. The primitive societies traveled great distances to ensure access to seaweed, which is rich in iodine and selenium. Iodine is important to the manufacture of myelin, the insulation in the brain and to the excretion of toxins by the liver. In addition, having adequate iodine stores lowers the risk of breast cancer and prostate cancer. Studies have shown 80% of Americans have inadequate iodine stores in our bodies. Have some seaweed every week to restore and maintain healthy iodine levels.
People often can't imagine eating 9 cups of vegetables a day. But if you eat your 9 cups of vegetables, three platefuls before having any grain or potatoes or dairy, you have dramatically increased the vitamin, mineral and essentially fatty acid intake in your diet. In addition, food allergies and sensitivities to gluten, the protein in wheat, rye and barley, and to casein, the protein in milk, are vastly under-diagnosed, and have been linked to a wide variety of health problems, including but not limited to asthma, eczema, infertility, depression, migraines, fibromyalgia, behavioral problems and neurological problems.
Yes, it does cost more to eat vegetables. But you will pay the price either way—for food that restores your health and vitality or for doctor visits, drugs, surgery and loss of work due to health problems.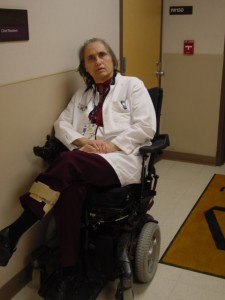 For seven years, while receiving the best care from the best doctors, despite taking the latest, newest drugs, I grew steadily weaker and ever more disabled. In November 2007 I could not sit in a standard upright chair as you are now. I needed to be fully reclined or in bed. I could take a few steps using two canes and was losing my keys and phone repeatedly. I was having nightmares that my clinical privileges were revoked. That is when I created a diet specifically for my brain cells and my mitochondria.
In January 2008, just three months later, I could walk between exam rooms using just one cane. By March, I could walk throughout the hospital without a cane. In May I got on my bike for the first time in nearly a decade, and rode it around the block. In September, I rode my bike 18 miles. The following year I did a trail ride in the Canadian Rockies.
Not everyone will deteriorate to the point of needing a wheelchair. But everyone's health declines if they starve their mitochondria. I am the canary in the coal mine, here to bring you this warning.
We have all have a choice to make. We can continue eating processed foods and watch both ourselves and our children grow steadily more overweight, depressed and disabled. We'll watch as healthcare costs balloon out of control and threaten to bankrupt us individually and collectively. Or we can eat for our mitochondria.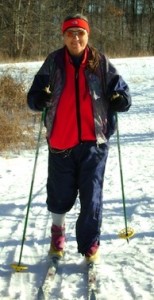 My choice is to teach the public about the healing power of food and continue doing clinical research, testing the impact of my interventions in others with progressive MS. So far our early data are very promising.
My dream is that someday soon, physicians and patients, coaches and athletes, employers and employees, policy makers, parents and young people, will all understand that becoming healthier, growing stronger, faster, and smarter, begins not with drugs or medical procedures, but with eating the way our DNA expects.
I challenge you to eat for your mitochondria and become ambassadors for the power of food to restore health and vitality.
If I can rise up from a tilt recline wheelchair by changing the food I consume, and now that we've seen similar results in others, stop for a moment and imagine what eating for one's mitochondria could do for restoring the health and vitality of the people you love, your community, your country and your world. Just imagine.
We all have a choice to make.
What will yours be?
By Dr. Terry Wahls

Dr. Wahls' Amazon Top Seller: "Minding My Mitochondria"
Buy Minding My Mitochondria at Amazon and learn how to begin implementing the Wahls Diet™ today!